One of the most important benefits of joining the Division is a subscription to the Division's technical e-mail list, DCHAS-L. The list is an active discussion (10-20 messages/week) of technical, regulatory, management and resource issues. To get a sense of the topics discussed, you can see the archives of the list at http://www.ilpi.com/dchas/ For more information, or to request a trial subscription, contact Ralph Stuart at membership@dchas.org
The DCHAS-L e-mail list is an important CHAS membership benefit. In order to help us make it as useful to you as possible, please take a few minutes to complete the survey below to help us continue to improve it over time. This is a brief snapshot of the results of a survey of its members that took place in spring, 2020.
About half of the list identifies academia as its primary affiliation.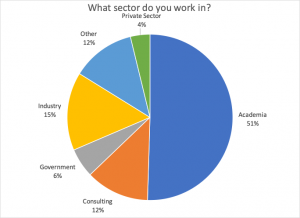 A majority of the respondents have been on the list for more than 5 years.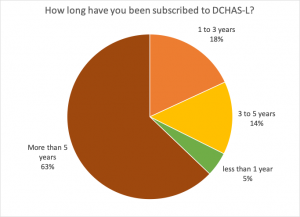 We asked about how people felt about the emphasis of the discussions on the list; the responses indicated a general comfort with the current distribution of topics, with some sentiment for more general news and information over discussion of specific questions.
| | | | |
| --- | --- | --- | --- |
| Total of 101 response | Too high | About right | Too low |
| Daily limits of 15 messages/day | 13 | 85 | 3 |
| Discussion of specific questions | 12 | 87 | 2 |
| Discussion of general chemical safety questions | 2 | 96 | 3 |
| Discussion of broader health and safety questions | 6 | 88 | 7 |
| HAZMAT headlines | 7 | 88 | 6 |
| ACS and CHAS news | 1 | 93 | 6 |
| News from government agencies and professional societies | 2 | 84 | 11 |
The final two questions were more general;
85% of the respondents are satisfied with the current scope of the list. Issues that people are interested in more focused discussion of include lab safety issues,

academic safety issues

and

sustainability

.
Final, a variety of free form comments about the list were received. They include questions, suggestions and positive feedback about this list. These responses are summarized in the tables below.
Questions:
Question

Response

With a limit of 15, are there comments that don't get posted? What happens if there are more than 15?
Few comments don't get posted. If there are more than 15 messages in one day, remaining messages are distributed the next morning.
What is the reason for having a max listing? You seem concerned about that. If there is a topic that generates a lot of input why not let the comments flow?
Lists with uncapped message traffic are a challenge for people who might not be immediately interested a "hot topic" by filling their e-mail box. 15 messages/day allows conversations to flow while avoiding becoming unmanageable.
Is the list searchable for previous discussions?
Yes, the archives can be searched at the ilpi.com web site at http://www.ilpi.com/dchas/
I also enjoy the archive. It would be nice if there was some way to tag the emails to help improve the search or topic.
We have thought about how to organize the archives for easier searching a couple of times, but the unstructured format of the list discussions make this a bigger challenge than we have resources to implement.
I recall that at one time there was a Digest option so that all of the notes posted for a single day appeared in a single note.
Yes, there is a

DIGEST

option that collects all of a day's traffic into a single e-mail. If you are interested in this option, contact me at membership@dchas.org and I can adjust your list settings accordingly.
It would be nice if people being part of the list focused more in safety in general and leave politics, and personal opinions on the side since this interrupts the flow of fact information and safety knowledge growth.
Some of the emails that get through screening really baffle me. There have been some really disrespectful and dismissive things that members have said, generally things that do not pertain to chemical safety (or safety at all), that have made it through. And that's not even touching on some of the political arguments that have gone on.
I answered the above survey in terms of my personal needs. I don't have enough familiarity with the whole to weigh that in my consideration.
I still find it serves the purpose. Some discussions get a bit too political and need to be better moderated. Otherwise I'm pleased to subscribe.
Please moderate more heavily to keep people on topic. Many times the conversation devolves into infighting about politics or generational divides. It's a massive waste of time. Please only allow chemistry and safety chatter.
Some of the back and forth on the list is a bit much. I just delete them.
The "congratulations" emails for officer appointments, awards, etc. are not suited for wide-spread distibution. They should be forwarded to the individuals being congratulated only.
continue to balance the volume of content
One issue is we waste too many emails on pithy opinions and fast comebacks.
Would like to see more industry involvement. But I understand restrictions on employees, liability issues, other factors limiting industry participation. Too much litigation harms more people than it protects.
Too many reaction emails. I can tell its a lot of college people with time on their hands. This shouldn't be a chat room but a lot treat it like that. I love it otherwise.
Some of the answers given to various questions are really great and make me think of other ways to do things at my own institution. This is a great resource!
Many times the emails do not apply to what I am doing, but it is nice to keep on top of the current Chemical Health and Safety. I posted a question in the past and was amazed at the help I received. Thank you.
good resource for sharing information among safety professionals
This list is vital for my continued learning in the field, as I don't have much formal training in safety, and I don't have expert colleagues to lean on.
Fantastic job; I learn so much from this and am very grateful for this group and its expertise.
I've been very happy with the content and volume of traffic on the DCHAS list. Thank you for managing the list!
This is a great service to the safety community!
I love it. Thank you.
Excellent service! Many interesting articles, features,
Thank you – I appreciate this resource
Thank you for the info!
Great service, interesting to get so many viewpoints
Overall great resource – Thanks!
greatly appreciate the shared information
Love this list! Thanks for running it 🙂
I LOVE the listserv and appreciate all who maintain and contribute to it
Thank you for managing
We've been cut to zero spending in NYS, I feel all our subscriptions will be cut, ACS, CSHEMA, etc. There's only two of us and we need you!
Thank you for your work.
Love it
Like the diversity of issues and perspectives
Yes, Thank You, the list seve and archives are a valuable resource
I think it serves an important role VERY WELL!
Good job, thanks
Well done and useful
I like the "chatty" aspects of the conversations, especially in these social isolation times.
Mostly thoughtful and useful content from prominent professionals.
I think the summary service you provide is relevant and is great. Keep doing what you have been doing.
I think you are doing a wonderful job! I read almost every email on health and safety that I receive.
My thanks go out to everyone involved with keeping it vibrant!
Very informative. It is great to see contributions from experts in so many areas of safety. Participants get lots of info in response to their inquiries.
I appreciate the efforts that go into the listserve and find it a very good resource. thank you
I enjoy the post and it is a means of keeping current as well as broadening my scope of knowledge. Keep up the good work.
Excellent resource!
I love all the info I learn reading the various postings. Have especially appreciated the recent covid-19 discussions. Thanks.
I love the list. As a former chemist and current IH to the arts, I find most of what you discuss applicable in some way. And you let me chime in.
1. THANK YOU SO MUCH FOR DOING THIS! 2. Although I do often struggle to keep up with it, it does serve as "continuing education" for me. It is in a word, fantastic. Although I did mark the "Hazmat posts" as "excessive," I do often clip and share particular ones as alerts or reminders to colleagues, family members, or friends. I don't know how you do it, but please keep it up. It is very much appreciated."
If you have questions or thoughts to add to this list, let us know at mailto:membership@dchas.org