[If you are looking for the LST Workshop ("Empowering Academic Researchers to Strengthen Safety Culture") or the RAMP Workshop ("RAMP in the Research Lab"), please click here.]
CHAS no longer holds in-person workshops in conjunction with the ACS National Meetings due to the costs associated with the meeting rooms and attendee travel costs. We now have online workshops via zoom covering the same variety of topics. These are held twice a year, usually 2-4 weeks after national meetings. For the Spring 2023 session, we are experimenting with half-day sessions, but may return to full-day for the Fall depending on attendance and enthusiasm for the half-day sessions.
Below are links to registration for the Spring sessions to be held the first week of May. All sessions begin at 1PM EDST and the cost is $195 per session. Please let me know if you have any questions!
If you are interested in arranging any of these trainings for your company or local section meetings, contact us at membership@dchas.org
Upcoming Workshops for Fall 2023
"How to Convince Others (that safety is important and that you're serious about it)" – Jim Kaufman, Laboratory Safety Institute
Monday, Oct 2, 2023
Registration Link: https://www.eventbrite.com/e/how-to-convince-others-that-safety-is-important-tickets-714537620257?aff=oddtdtcreator
Throughout the world, this is the most frequently asked question about lab safety. The answer is simple and, for the most part, inexpensive. The short answer is to create a more effective lab safety program. This interesting and entertaining four-hour presentation provides an overview of some of the 33 critical program elements. It confronts one of the more common excuses for not having or improving the lab safety program … "It costs too much." This is simply not true. Excellent lab safety programs do not need to cost large amounts of money.
Participants learn how to convince others by creating a more effective lab safety program (without a purchase order or requisition). You don't want to miss this opportunity for a highly informative, worthwhile and enjoyable learning experience. Here's a unique opportunity to take a look at your lab safety program to see how you're doing and how you can do it even better. The participants will receive the Laboratory Safety Institute's (LSI) lab safety program review checklist with 33 components. You will learn how to use this checklist to evaluate your program both qualitatively and quantitatively. The result is a simple, clear, low/no cost path for lab safety program development and improvement. And, with courage, you can score your program on a scale of zero to 100!
"Why Fume Hoods Go Wrong- And How to Make Them Right" – Victor Neuman, FumeHoodCertified.com
Tuesday, Oct 3, 2023
Registration Link: https://www.eventbrite.com/e/714541672377?aff=oddtdtcreator
There are more than 1 million laboratory chemical fume hoods in the USA and more than 15% have one or more safety problems. The three main areas to be covered in this presentation are: Setting up the fume hood safely and testing it; connecting to the air conditioning; and getting exhaust away from the lab building. Testing has shown that over 5% have chemical vapors blown back into the lab building by the wind.
Victor is the liaison from the ASHRAE ventilation engineering society to the American Chemical Society. He has been a Co-Author of ANSI Z9.5 "Laboratory Ventilation" since 1988.
"Laboratory Waste Management 2023" – Russ Phifer, WC Environmental, LLC
Wednesday, Oct 4, 2023
Registration Link: https://www.eventbrite.com/e/laboratory-waste-management-2023-tickets-714082739697?aff=oddtdtcreator
Each new generation of laboratory personnel is quickly confronted with the requirement to properly manage chemical waste in compliance with state and federal regulations as well as facility policies. This presentation introduces the full scope of regulation, with a focus on waste determinations, disposal technologies, variances & exemptions, and appropriate training of workers. In addition, the workshop will discuss economic and liability decisions necessary for effective waste management. Whether you are new to lab waste or just need a refresher, this program will give you what you need to manage waste safely and in compliance with requirements.
"Chemical Safety in the Lab: Purchasing, Handling, Storage, Disposal, and Labeling" – Jim Kaufman, Laboratory Safety Institute
Thursday, Oct 5, 2023
Registration Link: https://www.eventbrite.com/e/714546837827?aff=oddtdtcreator
The safer use of chemicals in the laboratory is critical. There are far too many examples of things gone very wrong resulting in serious injuries and deaths. This interactive half-day workshop will focus on the five-major area of chemical use in the lab.

Participants will learn more effective ways to purchase, handle, store, dispose, and label chemicals. They will discover how to create a stronger culture osf chemical safety. They will acquire a better understanding of principles of safer chemical use. Learn the answers to the four simple questions: What are the hazards? What can go wrong? What do I need to do to be prepared? What are the prudent practices, protective facilities and protective equipment needed to minimize the risk?
"How to be a More Effective Chemical Hygiene Officer" – Russ Phifer, WC Environmental and Jim Kaufman, Laboratory Safety Institute
Friday, Oct 6, 2023
Registration Link: https://www.eventbrite.com/e/how-to-be-a-more-effective-chemical-hygiene-officier-tickets-714121876757?aff=oddtdtcreator
CHAS offers the How to be a more effective Chemical Hygiene Officer workshop to provide participants with a detailed analysis of the CHO position and to prepare for the "CHO" Certification exam. Participants receive a clear perspective on safety issues in the laboratory, focusing on what the CHO does and how to do it better. OSHA, EPA & DOT regulations that impact laboratory operations are included in the discussion.

The workshop covers the content areas of the NRCC certification exam, including a sample test in the same format as the real one. Whether you are a new Chemical Hygiene Officer or an "old" one, you will find something to put to real use in this fast-paced presentation. There is extensive opportunity for questions during the workshop and with follow-up by phone and email.
---
Ongoing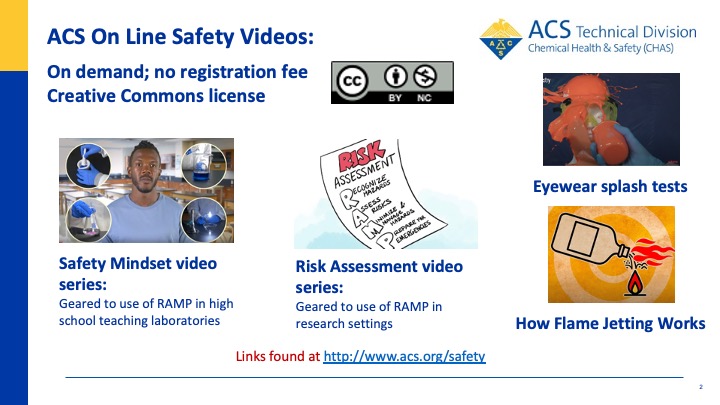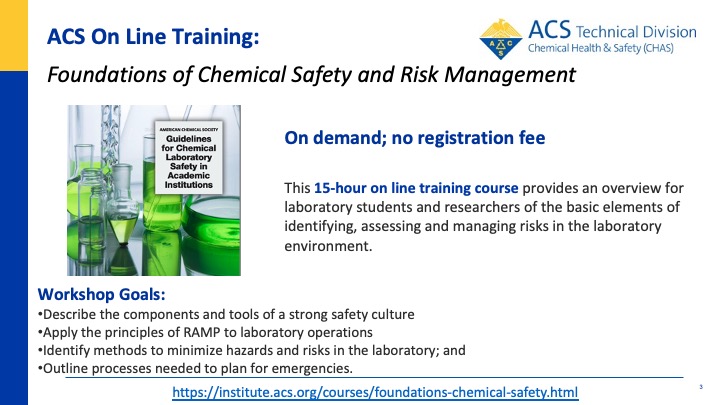 ---
If you have any questions about these workshops, contact us at membership@dchas.org or complete the form below.