On WEDNESDAY, March 24 the CHAS Art and State of Safety Journal Club discussed the paper "Anaphylaxis induced by peptide coupling agents: Lessons learned from repeated exposure to HATU, HBTU, and HCTU." 1st author Kate McKnelly led this discussion on this paper.The full paper can be found at this link: https://pubs.acs.org/doi/10.1021/acs.joc.9b03280. Comments on the table read are found below.
INTRODUCTION After working for years with peptide coupling agents HATU, HBTU, and HCTU[a][b],[c][d] a twenty-seven-year old female researcher (K.J.M.) developed life-threatening anaphylaxis. She began working with the aforementioned peptide coupling agents in May 2015. During the next few years, she worked heavily with these uronium peptide coupling agents. In March 2016, she began developing allergy symptoms of sneezing, coughing, and a runny nose. During the next couple of years, her symptoms progressed[e] to the point of anaphylaxis. These coupling agents are especially insidious because a severe allergy developed slowly over the course of three and a half years of exposure to the point of a life-threatening incident.
About one and a half years after beginning to work with these coupling agents, she noticed she had allergy symptoms when she weighed out coupling agents and Fmoc-protected amino acids for use in solid-phase peptide synthesis. In July[f][g] 2018, she began suspecting she was becoming allergic to coupling agents because she experienced sneezing and a runny nose immediately after spilling HCTU onto her glove. It was not until September 2018 that she experienced her first brush with allergy-induced anaphylaxis. She was at the weekly research group meeting in a seminar room down the corridor from the laboratory, and she began wheezing slightly. The wheezing was fleeting and went away after the group meeting when she left the building. A couple of weeks later, she started wheezing as she drove two labmates home. This time, the wheezing was louder—her labmates could also hear it—so she took the antihistamine diphenhydramine (generic Benadryl) to stop the reaction. Within 20 min, she could no longer hear wheezing.
Finally, in late October 2018, the researcher sat down at her desk in the lab and almost immediately began coughing, sneezing, feeling tightness in her throat, and subsequently wheezing. She attempted to remove herself from whatever she was exposed to in the lab and moved down the hallway to an office outside the lab. Once there, she continued reacting, and the wheezing progressed until she could hear a rattling wheezing sound when breathing through her nose. She immediately left the lab to obtain diphenhydramine. As[h] she exited the building, her symptoms stopped progressing. An hour after taking diphenhydramine, the wheezing subsided completely. In hindsight,[i][j][k] she should have called 911 for emergency medical help, because a throat-closing anaphylactic reaction can occur quickly, sometimes so quickly that there is barely enough time to avoid fatality.
How did this happen? How could this have been prevented?[l][m][n][o][p][q][r] We have been tackling these questions since the incident occurred. We provide this case study as a cautionary note about the potential hazards from chemical exposure that can develop over time and sneak up on a researcher. We first sought to determine what caused this anaphylactic reaction to occur. We then adjusted how peptide coupling agents were handled in the lab to minimize exposure and attempt to prevent other researchers from becoming sensitized as well. In sharing our experience here, we hope to contribute to the widespread implementation of standard operating procedures for peptide coupling agents and protect others who work with them.
LITERATURE SEARCH
We first scoured the literature for information on sensitization by peptide coupling agents HATU, HBTU, and HCTU and Fmoc-protected amino acids. Information regarding sensitization varied among chemical supplier material safety data sheets (MSDSs). HATU is reported to cause skin, eye, and respiratory irritation and is denoted by an exclamation mark hazard symbol. HBTU is reported to cause respiratory sensitization. HCTU is not reported to have known toxic effects. [s][t][u][v][w][x][y]We found only nine published cases of sensitization by the uronium coupling agents HATU and HBTU and none by HCTU or by Fmoc-protected amino acids. The first reported case implicating uronium coupling agents as chemical sensitizers came in 2003. Yung et al. described a researcher at a university that first developed eye irritation, a runny nose, and coughing (rhinitis) after weighing HBTU. Her symptoms progressed over the course of 2 weeks, developing into chest tightness, a cough, and skin rashes (urticaria) and culminating in sore, red itchy eyes, coughing, sneezing, and urticaria within 1 h of being in the laboratory. The researcher was tested with skin prick tests for allergies to HATU, HBTU, and HCTU because all chemicals were present in the lab. She tested positive for sensitivity to HATU and HBTU but negative for HCTU and various Fmoc-protected amino acids[z][aa]. Because the researcher did not exhibit sensitivity to HCTU, the authors suggested that this uronium coupling agent may be a safer alternative for widespread use. Other publications report that HCTU is nontoxic and nonirritating.
The other published instances of chemical sensitization to uronium coupling agents have involved HBTU exclusively. In 2003, another researcher, this time in a pharmaceutical plant, developed occupational rhinitis and bronchial asthma from HBTU and TBTU, which is identical to HBTU except for the counterion. The allergies were confirmed by positive skin prick and nasal challenge tests. In 2005, Bousquet et al. reported a chemistry researcher who developed allergic rhinitis and dermatitis on the hands and fingers which then progressed over the course of a year to include his face, upper back, neck, elbows, and ankles. The authors confirmed the researchers' sensitivity to HBTU through patch testing and found he was not allergic to dimethylformamide, dichloromethane, acetonitrile, triisopropylsilane, HATU, or BOP. From 2006 to 2010, six more instances of chemical sensitization from HBTU were reported with similar respiratory and skin reactions. One example, in 2006, involved a university researcher developing an anaphylactic response to HBTU over the course of three years, similar to the case reported in this paper. All of these examples were published in allergy and other medical journals, which are not generally read by researchers who use peptide coupling agents.[ab][ac][ad][ae][af][ag]
EXPERIMENTAL CONFIRMATION
We suspected that peptide coupling agents caused K.J.M.'s allergic reactions. An allergist and clinical immunologist (W.S.) tested the researcher for allergies to a panel of over 60 allergens by skin prick tests to determine if common environmental allergens accounted for her anaphylaxis. She was only slightly allergic to two environmental allergens, but not so allergic that they would cause anaphylaxis. Skin prick tests were then performed to determine if she was allergic to HATU, HBTU, HCTU, DCC, Fmoc-leucine–OH, Fmoc-phenylalanine–OH, and Fmoc-asparagine(Trt)–OH. The researcher worked with most of the canonical amino acids in their Fmoc-protected forms, so three were chosen as representative amino acids. DCC was included as a control because it is a notorious sensitizer that the researcher had never previously worked with.
As hypothesized, the researcher had severe positive allergic reactions to uronium peptide coupling agents but only mild responses to Fmoc-protected amino acids. The coupling agents HATU, HBTU, and HCTU all caused the formation of large hives, comparable in size to those formed by the histamine positive control. DCC did not cause any reaction, which is not surprising as the researcher was never previously exposed to DCC. Fmoc-leucine–OH, Fmoc-phenylalanine–OH, and Fmoc-asparagine(Trt)–OH all elicited minor reactions and produced hives much smaller in size than the histamine positive control. The lack of a strong reaction to the Fmoc-protected amino acids is not surprising, as they are not known chemical sensitizers.
ANALYSIS
This paper serves as the first reported case of chemical sensitization resulting in anaphylaxis from three common uronium coupling agents: HATU, HBTU, and HCTU. The sensitized researcher (K.J.M.) can no longer work in her research lab. She cannot go into the building where the lab exists; the hallways, rooms, and common spaces all cause her to react, first with a runny nose and throat tightness and then with wheezing.[ah][ai][aj][ak][al][am] Her allergic response is so severe that she risks anaphylaxis whenever exposed to these coupling agents, and she now must carry an epinephrine autoinjector (generic EpiPen) as a safety precaution whenever she is near researchers actively working with peptide coupling agents. She has become sensitive to colleagues who have been in her research laboratory and must be careful to ask them to change their clothes and in some cases wash or cover their hair to prevent her exposure to the pervasive coupling agents. These events prompted the research group as a whole to re-evaluate how the group handles peptide coupling agents and to change their standard operating procedures to prevent group members from becoming sensitized to coupling agents.
Chemical sensitization causes an immune response in the form of reactions as mild as seasonal allergy symptoms, like rhinitis, and as severe as dermatitis and anaphylaxis. Many[an][ao][ap][aq][ar] chemical sensitizers are chemicals that can modify human proteins. All reactive compounds that can modify proteins should be treated as potential sensitizers unless they are known with certainty to be safe. In spite of this hazard, most researchers do not treat compounds that can react with proteins with proper precautions. Peptide coupling agents are prime examples.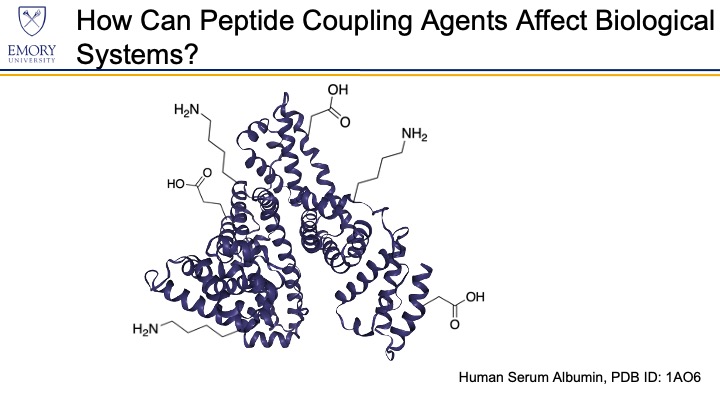 Peptide coupling agents induce the formation of an amide bond from the reaction of a carboxylic acid group with an amine group. The coupling agents react with the carboxylic acid and activate it for subsequent attack by a nucleophilic amine. After the amine reacts with the activated carboxylic acid, an amide bond forms. Human proteins display multiple carboxylic acid groups (e.g., glutamic acid and aspartic acid) and amine-containing groups (e.g., lysine) in the form of amino acid residues at protein surfaces. The reactivity of coupling agents toward amino acid residues primes them to cause sensitization by modifying proteins in the human body.
The carbodiimide coupling agent DCC (dicyclohexylcarbodiimide) is a notorious chemical sensitizer with a long history of causing sensitization. DCC was first reported as a peptide coupling agent by Sheehan and Hess in 1955. It quickly grew in popularity due to the ease with which it induced the formation of peptide bonds. Soon after its introduction, a publication reported that DCC caused three cases of allergy-induced skin rashes (contact dermatitis) in 1959. Zschunke and Folesky subsequently reported seven cases of DCC-induced contact dermatitis in a pharmaceutical plant in 1975. In 1979, two independent cases of DCC sensitivities were published in the journal Contact Dermatitis. In one case, a lab worker developed a blistering eruption rash on his hands and forearms, and in the second case, a research chemist developed a rash over nearly his entire body that persisted for five days before he was hospitalized. Since 1979, 11 more cases were reported of DCC causing similar skin contact allergic reactions. In one of these cases, the researcher also developed sensitivity to diisopropylcarbodiimide (DIC) and suffered a vesiculopapular rash on his cheeks and the backs of his hands from both DCC and DIC. The authors of each of these reported cases confirmed sensitization with skin patch tests.
The many reports of DCC sensitization lead to toxicology testing to confirm the hazard it poses to human health. DCC and DIC were nominated for testing by the National Toxicology Program in 1993. Hayes et al. then tested DCC and DIC on the skin of mice for their potential as sensitizers and in 1998 reported sensitization at concentrations as low as 0.006% (w/v) for DCC and 0.3% (w/v) for DIC. Another report in 2002 confirmed DCC and DIC as sensitizers to mice when examining the mechanism of DCC- and DIC-induced chemical sensitization. In 2011,[as][at][au] Surh et al. further characterized DCC and DIC for toxicity and carcinogenicity and determined that both DCC and DIC caused skin sensitivity in rats and mice, but only DCC exhibited carcinogenicity. The detrimental health effects of the peptide coupling agents DCC and DIC are worrisome for anyone who handles them.
HATU, HBTU, and HCTU were developed between the late 1970s and the early 2000s and are now widely used as coupling agents in peptide synthesis. Despite being implicated as sensitizers in at least ten reported cases, including the current one, they have not been rigorously tested for their immunogenic and toxicological properties.
LABORATORY ACTION PLAN
In response to the sensitization of K.J.M., we developed standard operating procedures to handle HATU, HBTU, and HCTU more safely. We found guidelines for handling sensitizers, which recommended never opening sensitizers outside of a fume hood and minimizing exposure if handling them outside of a fume hood. Our lab dedicated a portion of a fume hood to weighing out coupling agents and amino acids and placed a balance in the hood[av].[aw][ax][ay] A waste container was placed in this fume hood as a receptacle for weighing paper and other materials contaminated by coupling agents or Fmoc-protected amino acids. Coupling agents and amino acids are transferred into sealable containers before removal to individual researchers' fume hoods. As with other standard operating procedures for handling hazardous chemicals, personal protective equipment (PPE) in the form of a lab coat, eye protection, and disposable gloves [az][ba][bb][bc][bd]should be worn at all times when handling coupling agents. We anticipate that these procedures will reduce the risk of other researchers becoming sensitized in the future.[be][bf][bg][bh][bi][bj][bk][bl][bm][bn][bo]
Any research lab that performs peptide synthesis should take extra precautions to avoid exposing researchers to coupling agents. The Supporting Information provides a standard operating procedure to handle peptide coupling agents more safely in the research laboratory by minimizing exposure[bp].
CONCLUSION
Peptide coupling agents, regardless of whether they are carbodiimide reagents, uronium reagents, phosphonium reagents, etc., all perform the same chemical function of facilitating amide bond formation and therefore can all covalently modify human proteins. If a chemical can modify human proteins, it is a prime candidate as an immune sensitizer, even if it is not a known sensitizer. We hope that our laboratory's experience of the hazards of HATU, HBTU, and HCTU will serve as a cautionary note to those working with any peptide coupling agents.