Dear Philadelphia CHAS Workshop registrants,
As you may have already heard, the ACS has made the tough decision to cancel the Philadelphia National Meeting, which means our workshops will not be held. We are obviously disappointed by this turn of events due to the coronavirus, but as ACS pointed out in their cancellation notice, safety is now a core value of the Society, and this is the safest decision for all involved.
If you have already paid the registration fee, you may either defer that registration to the San Francisco meeting in August or the San Antonio meeting in March 2021, or cancel and request a refund.
Please reply to bothRuss Phifer rphifer@wcenvironmental.com, Mary Beth Koza mbkoza2@gmail.com with how you'd like to proceed. Thank you for your patience while this decision was being made.
Please note that the Developing Graduate Student Leadership Skills in Laboratory Safety workshop will be held virtually.
Time: Sunday, March 22. 3 to 6 PM
On line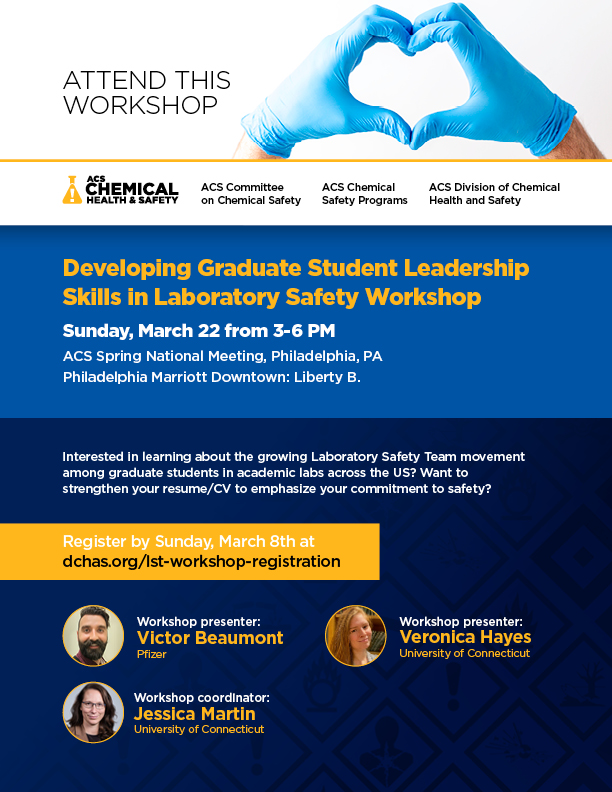 The American Chemical Society is sponsoring a program to help educate graduate students about lab safety culture and opportunities for promoting safety in their schools. The workshop will be held at the Fall National ACS Meeting and participants will be awarded a certificate that can be noted on their resumes.
This three-hour workshop will be led by Jessica Martin and Veronica Hayes, graduate students at the University of Connecticut and Victor Beaumont, currently at Pfizer and formerly at Yale University. The purpose of this workshop is to help develop individualized plans for the creation or improvement of student safety programs. You can read more about the results of previous workshops in this Journal of Chemical Health and Safety article. Other key topics include hazard assessment, risk management, safety management practices, and complementary top-down approaches. This workshop is primarily directed at graduate student issues, but faculty and staff are encouraged to participate.
You can download this poster to share here
This workshop is sponsored by the ACS Safety Programs and the ACS Office of Graduate Education, with technical support provided by the leadership of the ACS Division of Chemical Health and Safety.
Information on CHAS Professional Development Workshops can be found here.
| | |
| --- | --- |
| Graduate Student Safety Leadership workshop | $25 registration |
Registration Notes:
One person may register for multiple workshops on a single Registration form. If you have more than one person to register using the same credit card or billing method or if you need help with the registration process, please contact Russ Phifer at 610-322-0657 or rphifer@wcenvironmental.com You will receive a confirmation that your registration has been submitted immediately upon registering. You will be sent a confirmation of registration email as soon as your registration is reviewed. Please contact 610-322-0657 if you do not receive the confirmation within four working days.
[sform]7[/sform]
Conditions and Cancellation/Refund Policy
Upon verified registration, information will be sent to each participant containing specific location information of the workshop. Registrants may send substitutes are necessary. Full refund available for cancellations up to three (3) weeks prior to workshop date. 50% refund up to one (1) week prior to workshop. Cancellations made less than seven (7) days prior to workshop start date will be charged, but an 80% credit may be applied toward a future program. No-shows receive no credit and will be billed.