Designing laboratories that allow for safe and efficient research requires input and collaboration between researchers, architects, engineers and lab planners. Michael Labosky of MIT, Ellen Sweet of Cornell University, and Melinda Box of N.C. State University discussed the challenges of designing and operating labs from multiple perspectives, using concrete examples from the real world. This ACS Webinar is moderated by Environmental Safety Manager Ralph Stuart of Keene State College and is co-produced with the ACS Division of Chemical Safety and the ACS Committee on Chemical Safety. The webinar was recorded and is available to ACS members at http://www.acs.org/webinars Information from the webinar is provided below. If you have any follow up questions about this webinar, let us know at membership@dchas.org
References cited during the webinar include:
Laboratory Design, Construction, and Renovation Participants, Process, and Product 2001 from the National Academies Press (PDF free to download)
Guidelines for Laboratory Design: Health, Safety, and Environmental Considerations, Fourth Edition 2013, Author: Louis J. DiBerardinis, Janet S. Baum, Melvin W. First, Gari T. Gatwood, Anand K. Seth
ASHRAE guidelines for Classification of Laboratory Ventilation Design Levels (PDF free to download)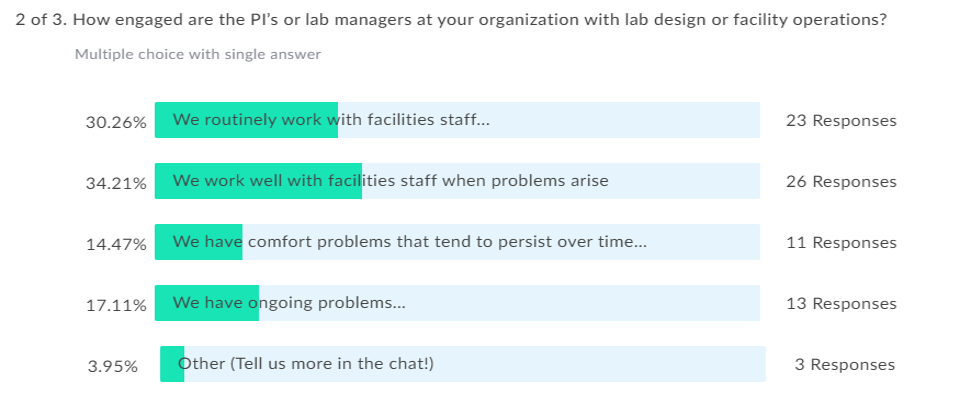 ACS Chemical Health & Safety special issue articles currently available:
Safe Lab Design: A Call for Papers https://pubs.acs.org/doi/10.1021/acs.chas.1c00034
Code Considerations for the Design of Laboratories Which Will Also House Pilot Plants
https://pubs.acs.org/doi/10.1021/acs.chas.0c00053
Planning and Building Laboratories: A Collaboration among Many
https://pubs.acs.org/doi/10.1021/acs.chas.0c00081
Controls for University Fabrication Laboratories—Best Practices for Health and Safety
https://pubs.acs.org/doi/10.1021/acs.chas.0c00093
Design and Practice of an Organic Analysis Laboratory to Enhance Laboratory Safety
https://pubs.acs.org/doi/10.1021/acs.chas.1c00008

Comments from the audience:
Working with Undergraduate Students is really a challenging task for us. The information shared through the webinars are really helpful and beneficial for us.
We are planning a new lab, it was just great!
Very good overview of the challenges associated with the design and maintenance of acceptable air handling for laboratories. The speakers were exceptionally knowledgeable, and this presentation was very useful.
This webinar is a new window of safety and security in labs
This was definitely for the inexperienced in lab safety design
This was an excellent and very relevant webinar. Re-consulting the notes and, more importantly, the recorded version will be useful as a significant amount of relevant information was given verbally and could barely be noted down (lack of time!). Maybe this can be corrected by adding more point-form keywords and statements on slides would help following the talks.
This was a great learning experience, I work indirectly with the labs almost every day. Our ventilation systems are top tier but it's great to understand some of the design aspects and procedural steps to take in order to create an effective and comprehensive system. I may not use this information daily but it's a great refresher.
Someone in the chat had a great suggestion for chemical inventory.
Showed me I am on the right track and pointed out some key things that I can further look into to make my lab safer
It was very informative and a very good overview.
It was beneficial to hear from peer institutions, especially with respect to ventilation. During the Q&A, the questions pertaining to core safety topics for the various levels if chemistry curriculum was also interesting.
I was provided with a great deal of additional resources to consult as we begin planning a revamping of our existing high school chemistry laboratory.
I hope to put in practice the knowledge acquired in laboratory design for safety and sustainability
I have benefited immensely from the little I was able to grab
I am working in a lab that has no such facilities and most of the time we ignored it as it was not in our hands. But here in this webinar, I have learnt many safety measures. I think this makes a difference in the safety measures of our lab.
I am planning to start a electroplating set up for my research work so definitely it has benefited me.
Excellent information from qualified professionals w/ real world experience and helpful insight.
El webinar me sirve como soporte para dar recomendaciones en la construcción del laboratorio de la CDMB que se está realizando en estos momentos en Bucaramanga – Colombia. Soy el jefe de ese laboratorio y debo estar preparado para emitir conceptos o aportar en la toma de decisiones para el laboratorio.
As EHS professional it is refreshing to see that lab users get more educated and aware of the lab ventilation issues and challenges
As an EHS professional, it primarily reinforced information that I already knew. However, the presenters offered good tips or ideas as well.